Global Network of One-Stop Automotive Service Stations
Prompt and Professional
---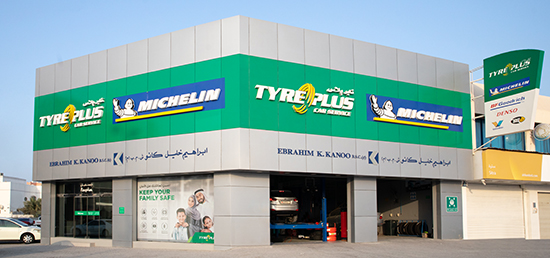 As part of a global network of one-stop automotive service stations, TYREPLUS Bahrain offers comprehensive tyre and car maintenance services, as well as a wide range of high quality tyres, lubricants, batteries, suspension and brake systems for a wide variety of vehicles.
The Michelin-certified TYREPLUS outlets in Tubli, Muharraq, Sitra, Saar and Salmabad are manned by experienced technicians who provide precision wheel alignment and light mechanical services. The demand for services will see further franchise expansion of TYREPLUS in the near future.
Our Services
What we provide
---

Tyre Sales
TYREPLUS offers a wide range of high quality tyres from reputed brands such as Michelin, Goodride, BFGoodrich, Tigar and Maxxis.
Replace your sedan, SUV or van tyres safely with high quality tyres at any TYREPLUS service station in Bahrain. Tyreplus offers brands for all budgets with expert inspection and excellent customer service.
BOOK AN APPOINTMENT

Fitting & Balancing
We ensure that your new tyres are the right type for your vehicle; they are mounted properly and balanced accurately.
Enjoy a smooth and safe ride with our professional balancing service, which not only helps maintain a strong grip on the road but also extends the life of your tyres.
BOOK AN APPOINTMENT

Battery Service
Drive in for a quick battery check-up by a qualified technician. We select the right battery size to ensure reliable performance, backed by manufacturer warranty.
Whatever your vehicle's brand or model, TYREPLUS has a wide range of battery brands such as Exide, SF Sonic and Mutlu for passenger vehicles, light and heavy-duty commercial trucks.
BOOK AN APPOINTMENT

Oil Service
Take advantage of quick, quality service provided by qualified professionals at TYREPLUS service stations situated at convenient locations all over Bahrain.
TYREPLUS uses genuine engine oil and filter replacement from the world's leading suppliers to ensure your peace of mind. Depend on the best and most advanced products to protect your car's engine.
BOOK AN APPOINTMENT

Brake Service
If you are experiencing steering wheel vibration, increased stopping distance or a squealing noise, let our experts inspect your car immediately. We do a careful brake check-up to ensure your safety on the road.
Trust TYREPLUS for quality brake pads, brake fluid, professional parts and precision repair. Drive safe and confidently with better braking power.
BOOK AN APPOINTMENT

Air Conditioning Service
TYREPLUS offers professional AC service and repairs to ensure your car air conditioning works perfectly, especially in the height of Bahrain summer.
We help maintain your air conditioning system all year round, ensuring a cooler driving experience, de-misted windscreen for a safer drive, a more aerodynamic drive, less fuel consumption and better performance overall.
BOOK AN APPOINTMENT

Wheel Alignment Service
The alignment of your tyres is a crucial part of your vehicle's maintenance. Ensure a smooth and safe ride with professional wheel alignment and balancing service at TYREPLUS.
Our experts use the latest equipment to fit and balance your tyres, which ensures higher fuel efficiency, better grip and tyre control, long lasting tyres, and lower maintenance.
BOOK AN APPOINTMENT

Car Sanitization Service
Ensure a safe and hygienic car interior with a quick, hands-free sanitization service at TYREPLUS Bahrain. Drive in and eliminate up to 99.99% germs within just 10 minutes.
As per WHO, ozone sanitization is a powerful way to sanitize, protecting your health while you drive. Our car sanitization service shields you from bacteria, virus, germs for 4 months.
BOOK AN APPOINTMENT

Nitrogen Inflation
Nitrogen-filled tyres maintain proper pressure, achieving better fuel efficiency, reduced emissions and longer tyre life.
Trust our experts to provide safe and systematic nitrogen inflation, which is perfect for all weather conditions because of its ability to retain tyre pressure in any temperature.
BOOK AN APPOINTMENT